Every Room Includes
Air Conditioning

Microwave

Cable TV

Mini-Refrigerator

Telephone

Table & Chairs

Wireless Internet

Flat Screen TV

Private Bathroom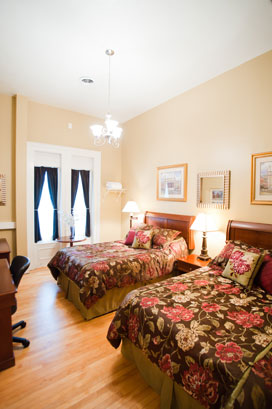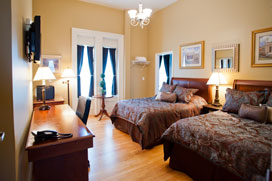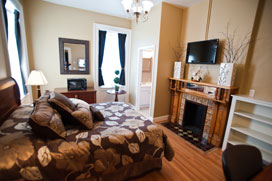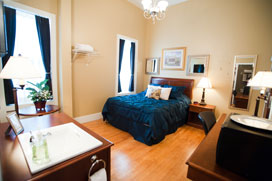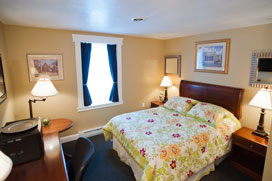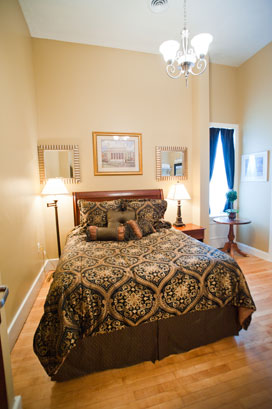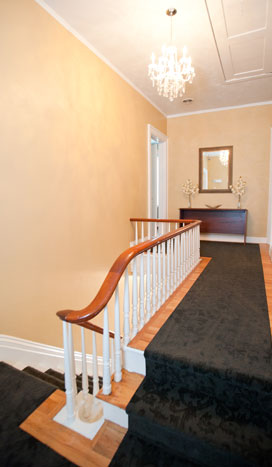 About Our Hotel
Established in 2011, the Beacon Hotel Oswego, NY is a beautifully renovated historic building, located in the Franklin Square Historic District at the corner of West 5th and Bridge Street (A.K.A. State Route 104 West). The Beacon Hotel, Oswego, NY is centrally located in downtown Oswego, just blocks from restaurants, shops, Oswego Cinema, beautiful Lake Ontario, and Breitbeck Park. Our hotel is premiere in location, service and amenities. While making your plans to visit Oswego, NY, whether for business or pleasure, our staff is trained to meet your needs. Rest assured that you have chosen a reputable accommodation that will surpass your expectations.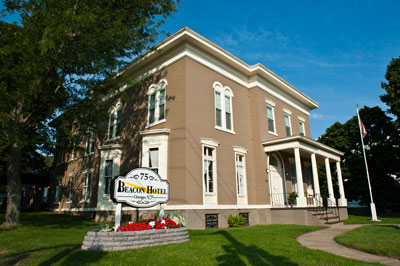 The Beacon Hotel Oswego NY is a locally owned and operated private 14 room boutique hotel. It has all the amenities of a major hotel franchise, but is small enough, that our staff can pay attention to the finest of details. We offer single queen size bed rooms, rooms with two double beds and one exclusive room with a king size bed, decorative fireplace and Jacuzzi tub. Each guestroom includes: flat screen TV, cable television, free wireless internet with Ethernet hook up, mini-fridge, microwave, air-conditioning, work desk and chair, alarm clock and private bath. Exclusive rooms include: decorative fireplace, Jacuzzi tub, chandeliers surrounded by original hardwood floors, 14 foot ceilings and original detailed woodwork.
During your stay, enjoy the use of our beautiful lounge with fireplace and free wireless internet. Relax and gather with friends or work and meet associates for business meetings in our elegant lounge. Our facility also offers a separate conference/ banquet room perfect for small private gatherings, such as; bridal showers, rehearsal dinners, baby showers, birthday parties, graduation parties, anniversary parties, board meetings, conferences, and banquets. While booking your next event accommodations, book our entire facility for a private exclusive touch for your guests. No more worrying about other guest in the hotel. Contact us to check availability for your next event.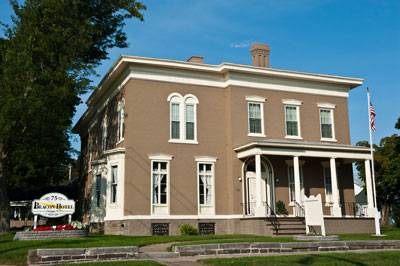 In 2011 the entire facility was renovated both inside and out. Inside, new flooring was installed throughout. Original hardwood floors were refinished in both common areas, hallways and some guest rooms. New carpets were installed in guestrooms and hallways throughout. New lighting, bathtubs, sinks and faucets were installed throughout the entire hotel for a clean, fresh look. Marble flooring was installed in foyer and guest bathrooms, along with fresh paint throughout the entire facility. Flat-screen TV's were installed in every guestroom, lounge and conference/banquet room. The entire facility received Wi-Fi and Ethernet hook-up throughout. Each guestroom received new mattresses, bedding and windows. Additionally, insulation was installed in each guestroom, to ensure insulation from both weather and noise.
Outside the hotel, the entire exterior was freshly painted to compliment the Franklin Square Historic District Neighborhood. Our private parking lot was paved and manicure with new bushes and shrubs. New signage, awnings and lighting were added to accentuate the buildings beautiful character and history. Continued maintenance keeps the Beacon Hotel Oswego NY as a top pick in lodging accommodations.
Check-In Desk

Single Queen Guestroom

Double Bed Guestroom

King Bed Guestroom With Jacuzzi Tub & Decorative Fireplace
Guest Lounge

Conference/Banquet Room

Franklin Square Historic Neighborhood